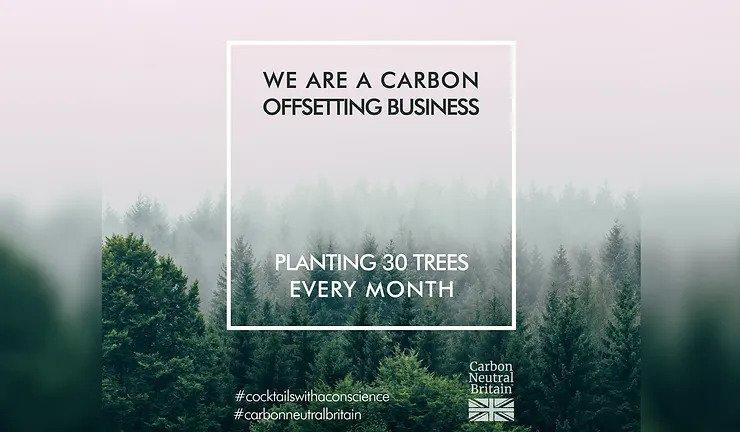 We are proud to announce that we have partnered with Carbon Neutral Britain to offset our carbon footprint, and plant 30 trees each month in sustainable projects around the world.
Here at Cocktails By Mail, doing the environment right is one of my biggest pillars. So I knew I had to get to offsetting our carbon as soon as I could. I looked into a few different companies to determine which would be the best fit, and decided on Carbon Neutral Britain.
Why Carbon Neutral Britain? Three mains reasons
They are transparent in how the run their business. They clearly lay out on the website where the money goes, "Higher than most charities, we ensure 80% of our subscription budget goes directly towards our tree planting and offsetting projects, 10% to administrative costs, and 10% on fundraising and marketing – helping us grow the number of customers and our impact."


They have pledged to spend at least 10% of their budget on carbon offsetting or sustainable tree planting projects in Britain, for Britain. With woodland creation projects in Scotland, solar and wind projects in England, they want to ensure that our impact is felt at home as well as abroad.


They offered a solution for me as a micro-business by way of a subscription offset plan. It is very costly to calculate a company's exact carbon footprint of a company and product, and honestly as a small startup it wouldn't make sense to at this time, as so many things are going to change rapidly for Cocktails By Mail in the near future.
Carbon Neutral Britain offers a subscription plan for small businesses, where they have calculated 98% of small businesses to produce 60 tonnes of CO²e or less. This covers
Scope 1 'Direct Emissions' (such as those from vehicles a business owns/leases)
Scope 2 'Indirect Energy Emissions' (such as those from electricity & gas from an office or working from home)
Scope 3 'Indirect Other Emissions' (such as from a business's waste, travel, and inbound/outbound delivery of goods)
It also covers up 50,000km of driving and 50,000km of economy flight miles.
Being a one woman operation, I thought this sounded like more than enough to cover Cocktails By Mail's carbon footprint. Considering I don't fly anywhere, do all the production by hand, and am concious of all out packaging choices.
Carbon Neutral Britain invests in several types of projects, but planting tress is one of the biggest.
"Planting trees are one of the most sustainable ways to offset carbon - as forest projects absorb CO², refract the earths heat as well as having a positive impact on wildlife, ecology and biodiversity." -Carbon Neutral Britain
One thing you will notice is I won't call Cocktails By Mail a cabon neutral business yet. That's because I feel until I actually understand our entire carbon footprint, working back through all of our suppliers, it's a bit of a misnomer. So instead, I will proudly say that we are Carbon Offsetting.
From the start of Cocktails By Mail I knew I wanted to engrain these environmental decisions into our company ethos and ways of working. By calculating all these additional costs into the business from the get go it makes it much easier to keep them as part of our model as the business grows and I can't make up excuses like "it's too costly" or "I'll lose profit."
But that doesn't mean I will stop improving. I am looking into how I can continue to make sure our carbon footprint is as low as possible, including getting the full calculation, adding a Carbon Neutral add-on for guests to purchase at checkout, and continuing to look for more eco-friendly suppliers.
Carbon offsetting is not the cure, it's a band-aid, but I feel important to take responsibility for the added carbon we produce with a luxury product.