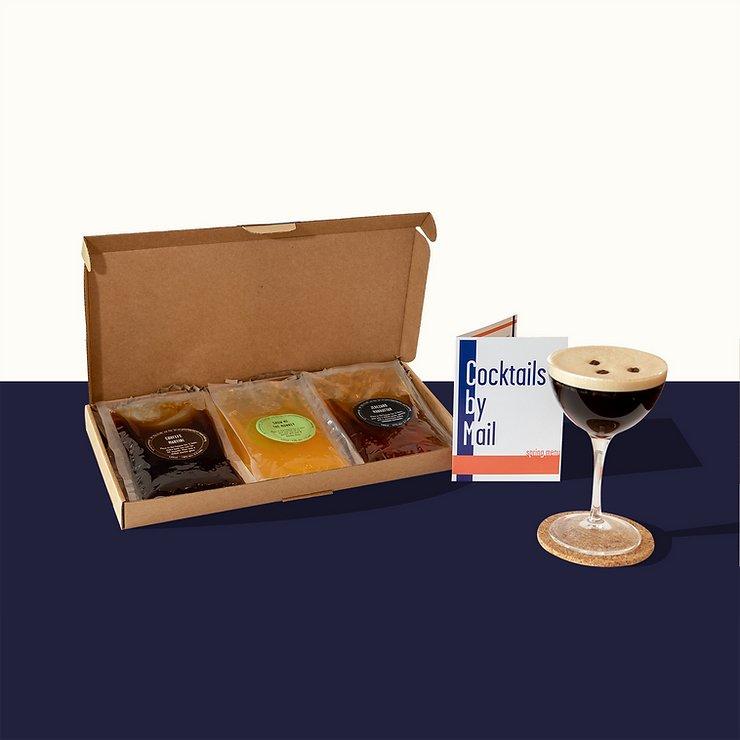 The last thing you want to do is send you dad to Benidorm for Father's Day. With all the tests/quarantine/test/test/another quarantine, nevermind the possible photos, sending him 'round the world' with whisky cocktails is a much better idea. Our Dads! Dads! Dads! Cocktail box is the perfect way to celebrate all the father's in our lives.
Three distinct cocktails, based on three major whisky producing areas from aross the globe.
AND a surprise dram of whisk(e)y. What more could he ask for, amiright?
Show Me The Monkey
This is the Scotch Whisky cocktail. Monkey Shoulder Blended Malt is a relative newcomer that really shines when mixed. Monkey is easy drinking fruitness, with a good backbone of vanilla malt which when blended with apple (a lovely mixer with Scotch) mint, & Drambuie makes this a proper slurper.
Covfefe Martini
With this cocktail we are jumping over to Ireland via Tullamore Dew Irish Whiskey. Triple grain, triple distilled, triple cask matured whiskey means vanilla, honey, and tropical notes dominate. Which is why it works so well in our version of an Espresso Martini. Irish Coffees are a thing for a reason.
Jerezano Manhattan
Next were off to American, but not for what you would expect, Bourbon. Instead it is American Rye Whiskey, which is actually America's original whiskey. Our friend Alan Katz in Brooklyn is doing exceptional work at New York Distilling Company, which is why we are using his Ragtime Rye in our Jerezano Manhattan. Distilled from New York grown rye, aged in full-size barrels just outside of Brooklyn, Ragtime Rye is spicy, intense, with just a hint of floral notes. This is a rich and decadent Manhattan, perfect for finishing the evening off. Now where's my velvet lounge coat?
Order one for dad now...or get him more socks.
Dad's always need more socks right?
A personal story
My dad wasn't a big drinker, but when he did indulge it was always Jack on the rocks. Always. I honestly don't remember him having anything else. When I started working at American Whiskey in NYC, I was convinced I could get him to like bourbon, or rye, or Scotch...anything but Jack. I couldn't let my dad be a basic whisky drinker, I had to expand his horizons!
But every time I gave him another whisky, he didn't like it.
Tastes smoky Steph...can I just have a Jack?
I would just shake my head. Come on Dad, try something else!
He always tried, but he never liked. Always back to Jack.
My dad passed away from ALS (Motor neuron disease here in the UK) in 2015.
Now, every time I have Jack Daniels I think of him and have come to love Jack Daniels for all the reasons my dad did. The banana, the grain, the inherent sweetness.
Delicious stuff Dad. I will be raising one to you this Father's Day.